HAPPY BOOK BIRTHDAY TO THE WITCH'S TEARS!!!!
This week has been a week of blog tours for me and a week of releases that's for sure. One of which is this beauty. I've read both in one week and they are incredible. I haven't read a witch/fantasy book like this in a long time. My reviews will be up shortly. But before I go onto my post for the tour, I wanted to say that I met these lovely sisters, at my school, at my event that I created and it was amazing. The students loved it and the atmosphere was just something to be deeply proud of. Plus I was just as excited as the girls too, almost like a dream this job. Ha.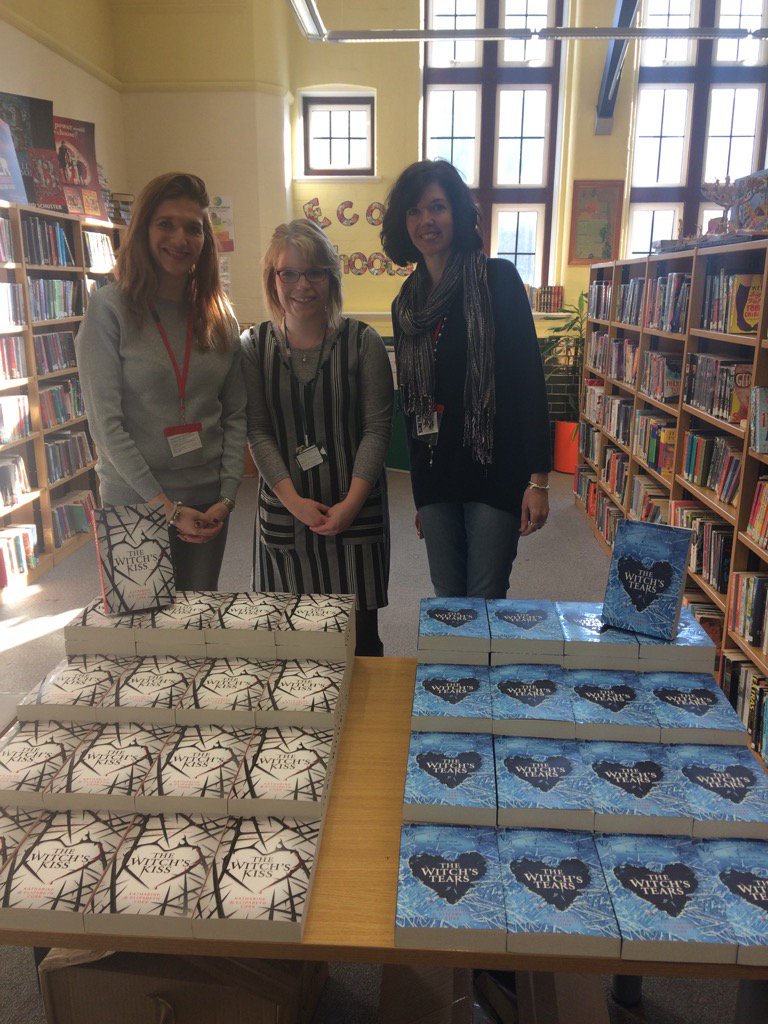 Anyways back to the blog tour, The Witch's Tears is the second in the series. So before you read the synopsis of The Witch's Tears - which maybe have to subtle hints about what happened in the first book, you HAVE to read The Witch's Kiss first (obviously)!
Sixteeen-year-old Meredith is fed-up with her feuding family and feeling invisible at school – not to mention the witch magic that shoots out of her fingernails when she's stressed. Then sweet, sensitive Jack comes into her life and she falls for him hard. The only problem is that he is periodically possessed by a destructive centuries-old curse. Meredith has lost her heart, but will she also lose her life? Or in true fairytale tradition, can true love's kiss save the day?
Can true love's kiss break your heart...? The spellbinding sequel to THE WITCH'S KISS by authors and sisters, Katharine and Elizabeth Corr. It's not easy being a teenage witch. Just ask Merry. She's drowning in textbooks and rules set by the coven; drowning in heartbreak after the loss of Jack. But Merry's not the only one whose fairy tale is over. Big brother Leo is falling apart and everything Merry does seems to push him further to the brink. And everything that happens to Leo makes her ache for revenge. So when strangers offering friendship show them a different path they'd be mad not to take it...Some rules were made to be broken, right? The darkly magical sequel to THE WITCH'S KISS burns wickedly bright.
Our Favourite YA Boyfriends
This has been a tough post to write, particularly given the number of gorgeous, (and, let's face it, often very brooding) YA boyfriends out there! But here is a selection of our favourites. They're all from fantasy YA, but that's how we like them…
Baz – Carry on, Rainbow Rowell
'And when I felt myself slipping too far, I held on to the one thing I'm always sure of. Blue eyes. Bronze curls. The fact that Simon Snow is the most powerful magician alive. That nothing can hurt him, not even me... And I'm hopelessly in love with him.'
After spending several years as roommates at Watford's School of Magic, Baz and Simon have cultivated a mutual and steadfast dislike of one another. At least, that's what Simon believes. As far as he's concerned Baz (a smug, ruthless 'tosser', who also happens to be a vampire) is just waiting for the chance to kill him.

The truth, however, turns out to be quite the opposite. Baz is in love with Simon, even though he'd much rather not be; a lot of the time he regards the scruffy and rough-around-the-edges 'Chosen One' with disdain. He doesn't for one second expect Simon to reciprocate his feelings (Simon has a girlfriend), but he can't stop himself being in love with him.
What makes Baz one of our favourite YA boyfriends is that he loves Simon for who Simon is, not for how Simon makes him feel about himself. It's romantic love at its purest. On top of that, Baz is smart, funny, good-looking and possesses superhuman strength – who doesn't love a YA love interest with superhuman strength? A sort of bad-tempered, sarky, less-weird version of Edward Cullen. We think he'd be a great boyfriend.

Prince Ash – The Iron Fey Series, Julie Kagawa
'Then, through the trees, I a saw him, a lean figure on a huge black horse. The boy from my dream…His cruel, angelic face wore a smile as he drew back a large bow, an arrow, glistening at the tip.'
Ash, a faery prince from the Winter Court, is in many ways the archetypical brooding YA boyfriend: mysterious, handsome and powerful. Not only is he an accomplished warrior, as a member of the Fey, he also possesses various magical powers.
The first time we meet him he is in pursuit of his sworn enemy, Puck, a faery from the Summer Court. Meghan – his future love interest – simply gets in the way. From then on there is a lot of Ash either trying or threatening to kill everyone, including Meghan. Of course, by the end of The Iron King, Meghan gets to see the other side of Ash and the pair fall in love. Turns out, that underneath his 'treat 'em mean, keep 'em keen' exterior, Ash is a beautiful soul; caring, deeply honourable and committed to keeping Meghan safe from harm, no matter the personal cost to himself.
A sort of bad boy version of Legolas from LOTR (at least initially), we think he'd be an interesting individual to go out with. Indeed, as writers and lovers of all things fantasy, we find Prince Ash highly appealing…
Lucas Delos – Starcrossed Series, Josephine Angelini
'He had short black hair and a dark end-of-summer tan that brought out his white smile and his swimming pool blue eyes. Meeting his eyes was an awakening. For the first time in Helen's life she knew what pure, heart-poisoning hatred was.'
The fates seem to be determined to keep Helen and Lucas apart. As members of opposing Houses, and as descendants of the gods, they are sworn enemies, and are thus compelled to try to kill one another. However, eventually, in the face of their obvious mutual attraction, and after Lucas saves Helen's life, they overcome the compulsion to hurt one another and become friends.
They are on their way to becoming lovers when the fates intervene once more. Helen and Lucas are told (falsely) that they are blood relations, first cousins in fact. Mortified, they try to stay away from one another, but of course they find this almost impossible to do so.
Lucas makes the list of favourite YA boyfriends for various reasons. Obviously, he is a total 'hautie' (over six foot tall, athletic, tanned and muscular – what's not to like?). And as a demi-god he has a whole host of supernatural powers, including the ability to fly. What makes him most loveable, however, is his complete devotion to Helen, even when he thinks there is absolutely no chance of them ever being able to be together.
What follows are lots of fights between Lucas and other demi-gods in his attempts to try and protect Helen (and her honour). It's all a bit swoon-worthy.

Puck/Robbie - The Iron Fey Series, Julie Kagawa
'Hi, princess. Sorry I'm late. Traffic was a bitch.'
Puck is Prince Ash's former friend, and the other guy vying for Meghan's attention. In the mortal world Puck posed as Meghan's best friend, Robbie, his task being to keep her safe from all things Fey. When they cross over into the NeverNever (the Fey world), Puck continues to appear at exactly the right moments to save Meghan from various dangers, whilst tormenting the life out of Prince Ash at every available opportunity.
We have a real soft spot for Puck. He's an extremely mischievous and meddlesome faery, with a truly wicked sense of humour. Unlike Prince Ash, he rarely stops joking around. Okay, so he's a little bit 'Jacob Black': completely devoted to Meghan, even though Meghan is completely devoted to Ash… But, he still deserves a mention on the best YA boyfriends list.
Not only is Puck devilishly handsome (wild red hair, captivating green eyes), he too has magical powers, including the ability to change himself into a raven. He's also really fun, providing some of the best dialogue in the series. There's no chance of a date with him being boring. And he definitely doesn't brood.
Magnus Bane – The Mortal Instruments Series, Cassandra Clare
'I'm tired of watching you be in love with someone else – someone, incidentally, who will never love you back. Not the way I do."

'You love me?'

'You stupid Nephilim,' Magnus said patiently. 'Why else am I here?'
Magnus Bane - an extremely powerful Warlock - is also 'very, very sexy', attracting the attention of men and women alike. On top of that, he's rather sparkly and likes to party. Hard. But there's another side of him, revealed as he develops feelings for Alec Lightwood, one of the demon-fighting Shadowhunters. When they first meet, Alec is in love with fellow Shadowhunter Jace Wayland. However, after Magnus saves his life, and then keeps turning up to help his friends, Alec starts to see Magnus in a different light, and the pair embark on a secret fling. Alec finally acknowledges the relationship by kissing Magnus in front of his family.
We love Magnus. Not only is he the experienced older man (roughly 800 years old), he's also sarcastically funny, sweetly patient, and cute (spiky black hair, a lean, muscular build, and the green/gold eyes of a warlock). We also love Magnus because of his fashion sense: glittery eye-shadow, bold lipstick choices, rainbow leather pants and a blue sequined hair band – can you tell that we're jealous? He definitely knows his designers. All in all, there aren't many other YA boyfriends quite like him…
About Katherine and Elizabeth Corr
We are sisters and best friends (try writing a book with someone else and you'll see why that last bit is kind of important). After spending our childhood in Essex, we now live ten minutes away from each other in Surrey. We both studied history at university and went to work in London for a bit. When we both decided to write novels – on account of fictional people being much easier to deal with than real ones – it was obvious we should do it together.

Stuff Katharine likes: playing instruments badly; dead languages; LOTR; loud pop concerts; Jane Austen; Neill Gaiman; Loki; the Surrey Hills. Killing off characters.

Stuff Elizabeth likes: sketching, Buffy the Vampire Slayer, cinema, long baths, kitchen discos, Terry Pratchett, Thor, London. Saving characters.
Thank you so much to Katherine and Elizabeth Corr for being part of my blog and part of my week.
Don't forget to follow the rest of the tour this week and read these amazing books!