Right now I'm sitting by the beach reading this very book and when I received it my life was complete. I'd been waiting for it for so long. Chris Russell's book are feel good, addictive, romance with a hint of bad boy boy-bands and photography what more could you ask for from an author who tours and sings a band himself. I met him at YAShot this year and he is so nice. Today I'm really excited to be sharing Fire&Lights: Band Member Profiles. But before that here is a little bit more about Songs About A Boy the final book in the Songs About A Girl series.
Music, boy bands, first love and heartbreak in the explosive finale to the Songs About A Girl trilogy - a modern love story for anyone who has ever dreamed of being 'with the band'. From a Zoella Book Club friend.

Just as Charlie allows herself to succumb to Gabe's charms, the explosive revelation about her mother's death threatens to pull them apart.

Meanwhile, a media circus has exploded around Olly and Fire&Lights: What made Olly walk out? And what future does this leave for the band? As Olly begins his solo career, Fire&Lights announce a US tour and a new band member. Knowing that her mother's last days were in America touring with her band, Charlie is determined to accompany the boys on tour so that she can get to the bottom of her mother's death, once and for all.

When Olly's first single clashes with Fire&Lights's latest release, a race for top of the charts begins ... and as Charlie begins to uncover the truth, will she finally be able to follow her heart?

It's time to face the music ...
FIRE&LIGHTS: Band Member Profiles
I'm not gonna lie - creating my own fictional boy band has been an absolute riot. From commissioning the amazing Alice Oseman to draw the band (and their logo!) to releasing an actual Fire&Lights single,
Dance With You
, it's been so much fun bringing them to life for my readers.
F&L have had a tumultuous time throughout the
Songs About a Girl
trilogy, and let me tell you - it ain't gonna get any easier in the series finale,
Songs About a Boy
. For the uninitiated, here's a (spoiler-free!) character summary of each band member…
OLLY SAMSON
Olly is kind of the unspoken 'leader' of Fire&Lights. A former schoolmate of Charlie's, Olly might be a global megastar, but in some ways he's still the smiley, down-to-earth boy-next-door that once walked the corridors of Caversham High. He's a good guy, through and through, and selfless to a fault. Olly will never let you down. He's also, let's face it, pretty dreamy.
YUKI HARRISON
Yuki is a lot of people's favourite F&L boy (confession: he's mine too). On the surface, he's the quick-witted class clown with a pocket full of wisecracks - but scratch beneath that surface and you'll find an intelligent, determined and incredibly loyal guy who cares deeply about his bandmates. He faces his own demons, too, throughout the trilogy, and we learn that, despite his extroverted personality, he's not invincible. He notices very early on how smart Charlie is, and how good she can be for the group. As a result, he is extremely fond of her right from the start. ("Where have you been all my life, homie?!")
AIDEN ROBERTS
Aiden's the quiet one. The sweet one. He's a bit of a reluctant popstar, but that's partly why the fans love him so much. Wide-eyed and thoughtful, with a lilting Irish accent, throughout the series we watch Aiden grapple with the darker sides of fame; we find a sensitive teenage boy struggling to understand his own fears and desires while living under the most intense media spotlight imaginable. Just like the others, he develops his own distinct friendship with Charlie - and even, in vulnerable moments, tells her some of his most closely-guarded secrets.
GABRIEL WEST
Gabe is dark, enigmatic and fiercely talented. As a result, he has always been the most photographed, the most adored and the most hounded member of the band. The press are driven crazy by the murky childhood he refuses to discuss, and eventually this leads to some pretty dodgy practices from a certain tabloid journalist. More so than any other member of the band, Gabriel gets put through the wringer in the Songs About a Girl novels. And while he may be a moody so-and-so sometimes, he would do anything to protect his band, and Charlie, too.
So how will the story end for Gabe, Charlie, Olly and the gang? You'll just have to read
Songs About a Boy
and find out…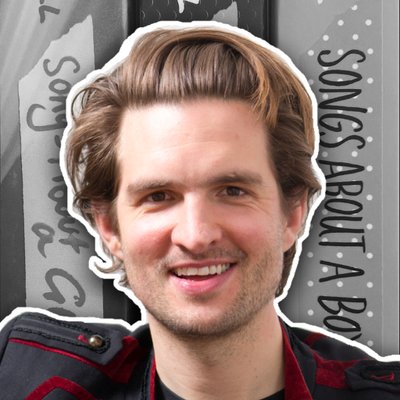 About Chris Russell
At the age of thirteen, Chris Russell formed pop/rock band The Lightyears with his best friends from school. Since then, The Lightyears have toured all over the world, performing everywhere from Wembley Stadium to Glastonbury, and trashing a grand total of zero hotel rooms. In 2013, after a three-month stint ghostwriting for a One Direction fan club, Chris developed an obsession with boy bands and came up with the idea for Songs About a Girl. He is currently busy writing the next book in the series, gigging with The Lightyears and fanboying in the general direction of Harry Styles. Follow Chris on Twitter at @chrisrusselluk