Happy New Year Everyone! So I said I wouldn't be back until the 4th but I've been reading some cracking books and I have been planning and organising myself and my blog for next year. I thought I would get the ball rolling early as they say. I seem to really get into blogging more at the beginning when work is less busy, so why wait.
This post is merely to say Goodbye 2015, where has the year gone and Hello 2016! It's for me to share what my most anticipated reads are as well as things to come in the new year. One particular one I'm very excited to share very soon. It's been quite a year for 2015 both reading and personally too and I can't wait for 2016. Some great books to come and I've got myself a new strategy in order to read many more ARCs I receive as well. I have created a Book Journal where I record all the books I've read but now decided to add all the book I have received and put them in date order then I can base my reading on that. But I want to be more flexible with it too so I don't get too stressed and also just enjoy the ride of reading and blogging. So far it's working a treat so I hope to continue it.
My bookclub is celebrating it's 1 year anniversary and I'm very proud of it. Some changes are coming to it to make it more easier and less stressful to organise. I'm hoping to read all the books that get selected as I had a hard time trying to motivate myself in some months last year. *hangs head in shame* If your interested then do let me know.
Anyways enough of me babbling, shall we get on with my most anticipated of 2016... I think so:
These are the books that have covers so far for next year. But some I'm really looking forward too don't have covers yet which are:
Book 3 of the Normal Series by Holly Bourne
Book 3 and the final book of The Lone City by Amy Ewing
Morgan Matson has been one of my favourite authors
this
last year, reading with my lovely best friend, Glass from
Ja čitam, a ti?
.
I've binge read all of her books last year. So I can't wait to read the next one. Holly Bourne and Amy Ewing, well enough said. Love her! Emery Lord again, I read
Open Road Summer
last year for the bookclub and loved it. I'm not a fan of fantasy sometimes but the highlight of 2015 for me in this category was Melinda Salisbury's
The Sin Eater's Daughter
and I can't wait for the sequel. Katie McGarry and Kasie West loved all her book and l wait closer to the release date. Cecial Ahern, my mum and friends love her adult books and she finally, finally has a YA novel coming out that seems awesome. Finally Estelle Maskame, the last in the trilogy and I have adored reading these in close releases, awesome. Question remains will they get together?!
Well I might as well do a all round post for 2016, including some of the challenges I will be participating in some challenges this year. I don't always come through on many but the three I participate this year are essential to me, I think anyways. I'm starting 2016 with one -
Bout of Books which you all know by now, it's a one week read-a-thon to read a many of your books as possibly, it's been a success and I hope to read a total of 3 books in one week. But hopefully more than that. Here is the list I am hoping to successfully read. I have a SST post at the end of the month for The Possibility of Now, The Raging Light is a highly anticipated book of 2016, and is my ARC of the challenge and then Pretty Little Liars, I have recently got Netflix and the first series I'm watching is, you guessed it, PLL! Can't wait.
-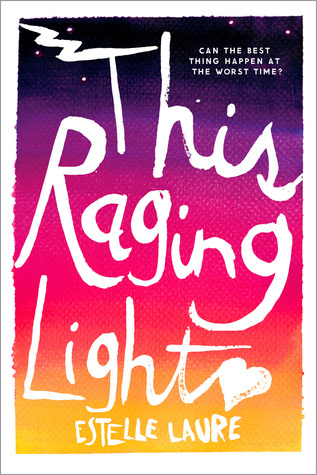 The second challenge is obviously the Goodreads 2016 Reading Challenge, although sadly I didn't complete it this last year I'm still going to stick with my goal of 75 and really crack on with it. Lastly, I wrote a post for it which is Sarah's #RockMyTBR! If you want to see the post then click here and here is my GR shelf for the reads I hope to take off my TBR.
As so all there is left to say is Happy New Year and I hope 2016 is a great year for you all.
Happy Reading,