Hello Everyone
Hope you are all having a great weekend. Today I'm very excited to be part of The Witch's Kiss blog tour hosted by HarperCollins. I am currently reading the book and absolutely loving it, what I love so far is that it's set in present day. Anyway's I'm digressing Katherine and Elizabeth are here with their top 5 witches it literature and if you don't know or haven't heard of this book here is a little more about the novel.
The Witch's Kiss (The Witch's Kiss #1)
by Katherine and Elizabeth Corr
Release Date - June 30th 2016
Publisher - HarperCollins
Buy - Amazon | Book Depository

Sixteeen-year-old Meredith is fed-up with her feuding family and feeling invisible at school – not to mention the witch magic that shoots out of her fingernails when she's stressed. Then sweet, sensitive Jack comes into her life and she falls for him hard. The only problem is that he is periodically possessed by a destructive centuries-old curse. Meredith has lost her heart, but will she also lose her life? Or in true fairytale tradition, can true love's kiss save the day?
Our Top 5 Witches in Literature
Well, this is a difficult one. There are so many awesome witches (good and bad) in fiction to choose from. But we've had a go….
1. Granny Weatherwax from The Disc World Series, by Terry Pratchett
'Her expression wasn't perhaps as vicious as thumbscrews, but it did suggest thumbscrews were a real possibility.'
It's very hard not to love Granny Weatherwax. She's undoubtedly powerful (she never loses a fight), but not in a flashy, Maleficent kind of way. Yes, she dresses in black ('cos it's respectable') and will fly a broomstick if she absolutely has to, but she's not really one for wands or cauldrons. Or even, for that matter, spells. Instead, Granny's particular brand of magic very much comes from the heart and, more often than not, from the head. Frequently, it involves out-thinking or just plain out-manoeuvring her opponents by any means possible (bluffing, tricking and lots of insinuating that very bad things may be just about to happen). Although she's a 'good' witch, with a strong sense of morality, a lot of her power over others stems from the mean-old-lady persona she cultivates. She has a withering stare that could melt the sun, and she's not afraid to use it.
"Are you sure that's a real spell?" said the girl. "Well, it's not very good, is it?'
Hermione is a very modern, teenage witch, as well as something of a feminist icon. She's confident, ambitious and unapologetically smart. Sure, she's a know-it-all. But let's face it, usually she does know it all (particularly in comparison with the oh-so-clueless Ron, and often even Harry). Hermione works hard to excel at witchcraft and excel she does. And she never dumbs herself down in order to fit in with anyone, or to appease the men (or boys) in her life. Harry's the 'chosen one', who ultimately defeats Voldemort, but Hermione's the one with all the sass. Without her, we very much doubt Harry would have made it out of his first year at Hogwarts in one piece. We're absolutely sure Ron wouldn't have.
3. Bellatrix Lestrange, also from Harry Potter
'Neville Longbottom is it? How's your mum and dad?'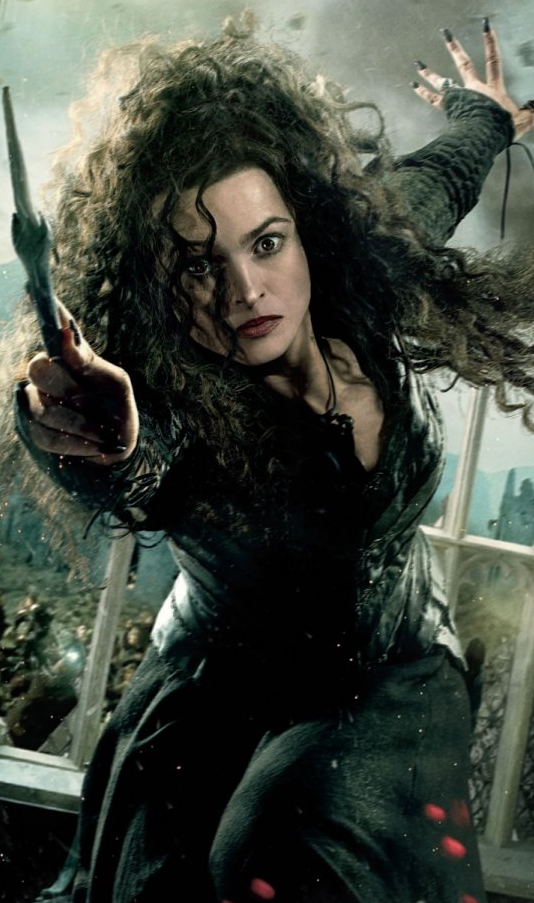 Like Lord Byron, Bellatrix is 'mad, bad and dangerous to know.' A pure-blood witch, former Death Eater and fanatical follower of Voldemort, she out-performs the Wicked Witch of the West on the wicked scale 10-1. Vicious, sadistic and quite obviously unhinged, she merrily tortures and kills her way through the Harry Potter series. We have a couple of really nasty magical types in
The Witch's Kiss,
and Bellatrix very much appeals to our darker side as writers. She literally puts the dark into 'Dark Arts'.
4. Mildred Hubble from The Worst Witch, by Jill Murphy
'The cat is supposed to be on the broomstick, Mildred,' said Miss Hardbroom wearily.
If we were to choose who to emulate, we'd
like
to be Hermione. We both suspect we'd be more like Mildred. But that's okay. Mildred is not quite as proficient a witch as Hermione; she actually screws up a lot. But she's young and vulnerable, and readers can identify with that. She also has an incredibly big heart, and, one way or another, she eventually manages to achieve her goal.
5. Meg from Meg and Mog, by Helen Nicoll and Jan Pieńkowski
'She got out of bed to dress for the spell party.'
When we were growing up we adored the Meg and Mog series. Meg is the archetypal witch. She's got a black hat, black boots, black cat, broomstick and a cauldron. What's not to love?
Thanks for stopping by and I hope you all have a great weekend. Be sure to pick this book up on your travels to bookshops and/or libraries or I will put a spell on you!! Haha.
Happy Reading
Emma