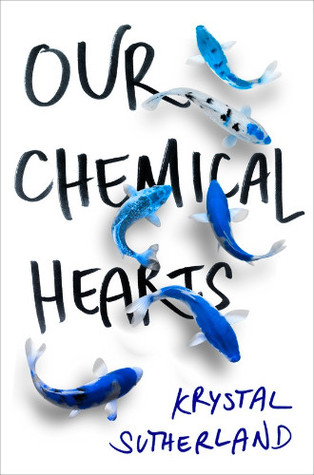 Our Chemical Hearts
by Krystal Sutherland
Publisher - Hot Key Books
Release Date - October 4th 2016
Buy - Amazon | Book Depository

John Green meets Rainbow Rowell in this irresistible story of first love, broken hearts, and the golden seams that put them back together again.

Henry Page has never been in love. He fancies himself a hopeless romantic, but the slo-mo, heart palpitating, can't-eat-can't-sleep kind of love that he's been hoping for just hasn't been in the cards for him—at least not yet. Instead, he's been happy to focus on his grades, on getting into a semi-decent college and finally becoming editor of his school newspaper. Then Grace Town walks into his first period class on the third Tuesday of senior year and he knows everything's about to change.

Grace isn't who Henry pictured as his dream girl—she walks with a cane, wears oversized boys' clothes, and rarely seems to shower. But when Grace and Henry are both chosen to edit the school paper, he quickly finds himself falling for her. It's obvious there's something broken about Grace, but it seems to make her even more beautiful to Henry, and he wants nothing more than to help her put the pieces back together again. And yet, this isn't your average story of boy meets girl. Krystal Sutherland's brilliant debut is equal parts wit and heartbreak, a potent reminder of the bittersweet bliss that is first love.
I picked this one totally randomly and I had a little help picking it too. I was stuck in the middle of the book and I need an out clause. I didn't want too but I was forcing myself to struggle which isn't the way to enjoy reading or books for that matter. But this one, oh wow, did I fly through it, and did I love it - YES! Do you know why I loved it because it was the first time in a long time that I stayed up to finish it. I was tired in the morning but it was a price I was willing to pay.
I went totally into the unknown with this book - I didn't read the description, I got picked the book and I read and it was the best feeling when it's a totally moving and gorgeous book. Told by a male protagonist named Henry Page, he wants what his parents have - a truly magical and inspiring love like when his dad moves, his mum moves with him. He's been lead to believe and want this love more than anything. He's never fallen in love and the first person he kissed turns out shes a lesiban and he's never lived that one down...until this day La, has been his best friend ever since as well as the Ozzy named Murray. (Hilarious might I add.) So when Grace Town comes into school, unkept, messy hair, wearing boys clothes and using a cane, he shouldn't really think anything about it apart from she's weird. But it's her oddity and the unique persona that shouts from the end of the hall that draws Henry in. But is it for the right reasons...

I absolutely loved being part of Henry's story. It's really hard to say what it was but it was unlike I've read this year in terms of Henry's narrative, his persona and even the relationships/friendships he has. His group of friends, Lo and Murray are just the bomb (I don't know where that came from) Murray is the comedic, Lo is the heart of the group I think and Henry well he's the intelligence. But I did feel quite sorry for him actually, because he's been mislead of the idea of love and his big heart was completely genuine in this story when the person he fell in love was the mostly unlikely person of all. That for me was the beauty of it. 😍😍

I feel that his relationship, his first love with Grace was a whirlwind and certainly not one he was counting on. He just wanted to mend Grace's broken self and I want commend him for that. One could say it's dysfunctional relationship- beautiful on the outside but very dark and twisted in the inside when you get to see the real truth to Grace's story. But Grace has her own demons but she wants someone who will make her let go in a familiar sort of way.

What I actually loved was reading from a male POV. I don't rarely read it from a male's narrative and I'm not being sexist, promise but sometimes I find I don't connect with the character at all, it's different from a dual protagonist y'know! I think for me its what I'm used too. But with this new job I'm finding I'm reading so many different novels than I usually would. If you haven't seen it, pick it up and give it a try you won't be disappointed.

Rating - 🌟🌟🌟🌟🌟